5 Options Trade Traps that
Can Destroy Any Portfolio
Report Reveals the Biggest Mistakes Options Investors Make.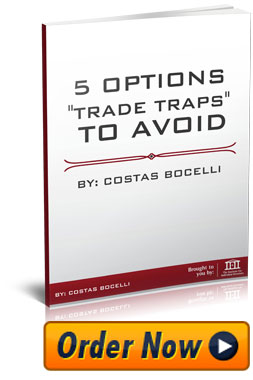 Options trading can provide the individual investor with a life-changing chance to achieve financial independence, exceptional returns and great wealth. But like with anything new, you need to learn all the ins-and-outs so that you can avoid the pitfalls and traps and ensure your best chance at success.
Before trading another Option, read Options "Trade Traps" to Avoid and make sure you're protected against the 5 most common pitfalls, and discover how to...
Easily avoid the "mother of all pitfalls" before it takes you out of the game
Always match the correct Option to your particular investing goal
Put the "right kind" of leverage to work for you to boost your returns
Know the 3 things to watch for as you build your best options strategy
Why you should always look for those "tight" Bid /Ask spreads
Learn the 2 (very different!) kinds of leverage
Discover why you should NEVER take your eye off your Options expiration date
When to "spend a nickel to save dollars"
© 2018 IFII.com – Institute for Individual Investors LLC – 110 East Atlantic Avenue – Delray Beach – Florida – 33444 – USA